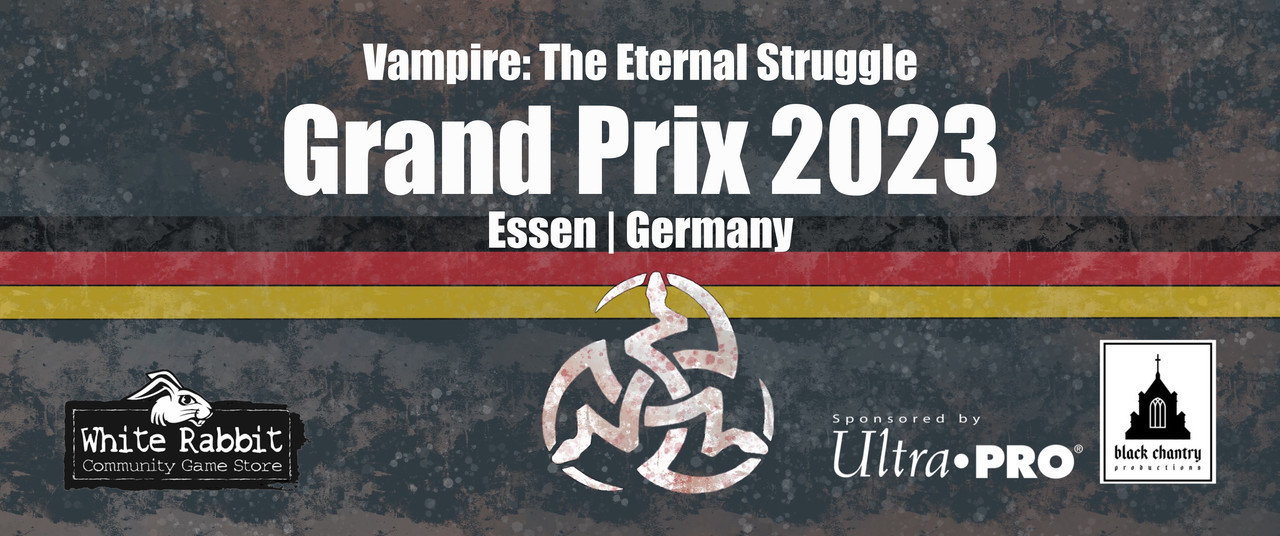 "Remember my friend, that knowledge is stronger than memory, and we should not trust the weaker" - Bram Stoker, Dracula
Vampire: The Eternal Struggle - Grand Prix 2023 Germany
Time:
Sunday, September 17, 2023
Admission from 11:30 a.m.
Start first round 12:00
Location:
White Rabbit - Community Game Store
Segerothstrasse 79
45141 Essen
Germany
www.whiterabbit-cgs.de
Round system:
3 rounds and finals (time limit 2 hrs each).
Format:
VEKN Constructed (Constructed)
In case of less than 12 players participating, the multi-deck system will be used.
Furthermore, for the Grand Prix tournament series: The five top ranked players from the series face off in the final held the same weekend as the European Championship. Each Grand Prix winner is also automatically qualified for Day 2 at the European Championship.
Entry fee:
20€
The 20€ entry fee will cover various costs, including prize support, location etc. We ask that drinks and snacks are purchased from the location itself to support them.
In addition, there is an absolute ban on alcohol. The tournament management reserves the right to exclude alcoholized participants from the event.
The number of participants is limited to 45 persons.
An early registration is advantageous. Pre-registrations gladly by email to me
or in the German VEKN web forums in this thread:
https://forum.vekn.de/viewtopic.php?t=56879
Further information:
(1) Vampire Elder Kindred Network | Event:
https://www.vekn.net/event-calendar/event/10694
(2) Vampire Elder Kindred Network | Forum:
https://www.vekn.net/forum/europe/80401 ... -essen-nrw
(3) Facebook:
https://www.facebook.com/profile.php?id ... issed=true
Contact:
Steffen "MacReady" Waschul
vtesprince.herne@web.de
+49 15783852215
https://forum.vekn.de/memberlist.php?mo ... ile&u=5400