Hello and sorry if that could look like spam and it's not in france. (mais mon école de français est terrible.

)
Some of you may be also know it, but Martin Weinmaier and I would like to introduce this page for you all how are interested for a online VTES league and statistic tool page.
Some of you may be knew that the page is online (
https://www.vtes-hook.com/liga
) .
At this page you can enter your own league and publish your table results. (If you want to play online or want to have your own ranking).
Now we are proudly to announce, that we opened our
statistic
and
ranking
(for your own league or as a part of the online ranking

)
We hope to offer you all a service to take a look at the actuall meta game and statistics like which kind of decks are mostly played and how effectiv it is.
But we still need you.
We have at this time 12 Tournaments online and take those as source for our statistics.
If you have your own league and want a tool to show your player ranking and want to see your own meta game. Just register yourself and write me (blackkn8) or martin (angrynewb) a PM.
We will activate your account as League admin and you can administrate your own league. And then you can use all of our benefits. (And yes it's free and without any costs!)
Alternate, if you want to play online take a look at the
Lackey online tournaments
. We support theire reporting.
As Example how we can support you:
European World Championship =>
League Statistic Page
=>
Table-Overview
=>
League-Overview
American World Championship =>
League Statistic Page
=>
Table-Overview
=>
League-Overview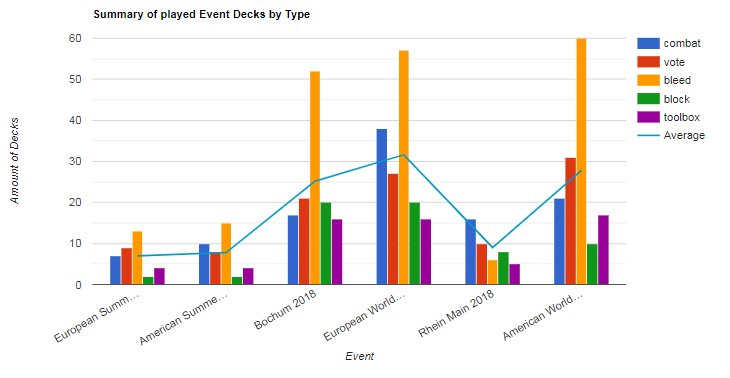 Statistic Overview
You can see how many, VPs, GWs, Timeouts and Finale Games a Deck have. Just click at the name of a Deck and enjoy the might of the meta game statistics. Also you can sort the decks and ranking by clicking at the header name...

Hope you all will find the benefit of this tool and will have fun with it.
If you have any questions, please don't be hesitate
Best regards Kai
P.S. All registered users can have his own signature! Just check if your name is already used for the league and if it is so. Just take control over your name...

P.P.S And yes it is GDPR compliant.